JUMP bikes
UX Design concept project
Demystifying JUMP bike parking
Helping riders park and lock bikes responsibly
San Franciscans are b-u-s-y and want quick and easy ways to get around. Enter JUMP. The company offers on-demand electric bikes that can be reserved in-app and locked to any city bike rack.

Problem
Hurried riders have left bikes blocking pedestrians or traffic.
Solution
Notify users when they've parked incorrectly and reward proper parking.
Team: 3 UX designers
My role: UX Designer, leading on content strategy
Timeline: 2-week design sprint
Our team observed JUMP riders in downtown San Francisco and discovered how they parked their bikes: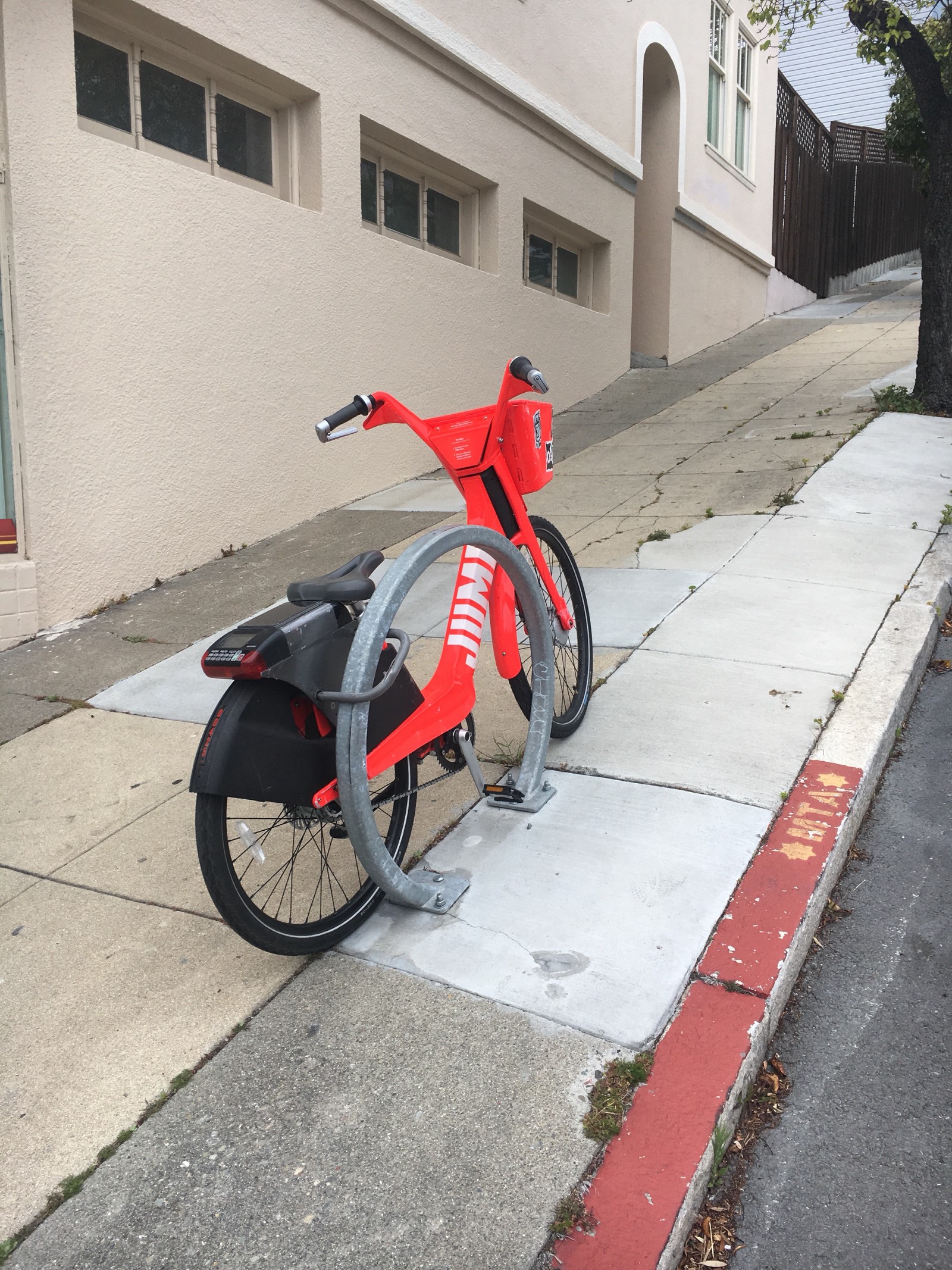 Four insights drove our project
1. Riders can't tell if their parking choice is valid
2. They're worried about additional fines for improper parking
3. They don't have endless time to figure out where to park
4. They believe in the public good and want to do the right thing
We believed that if JUMP more clearly communicated about valid bike parking, then users would park responsibly because:
They want to feel like they're doing the right thing

They want assurance they won't be fined for invalid parking
The solution
Parking validation will let riders walk away confidently
Bikers didn't have their phones accessible immediately before, during, or after the ride so we created a solution outside the JUMP mobile app. Dealing with the app would add another layer of friction to riders' experience.
Instead, we decided to leverage JUMP's existing design system by incorporating our solution into the rear computer screen on each bike. This screen is the one riders interact with to start and end their ride.
We preserved the layout so interactions would feel comfortable and familiar for users. Our main change was informational: we altered the text that appears on the bike screen after the rider locks the bike.
Our solution included direct feedback — the bike screen would tell users if they'd parked correctly. If they hadn't, the computer would kindly suggest another parking spot nearby.
Once they'd parked correctly the computer would congratulate the rider on making bike sharing great for everyone, tapping into riders' motivations to "do good."

New screen #1, the first screen users see if they've parked incorrectly
New screen #2 offers parking alternatives
New screen #3 validates the rider's parking choice
Our solution tells bikers where and how to park correctly, which helps them avoid fines and gain confidence in their choice — two of their stated goals.
Results & Reflections
During usability testing, we found that riders didn't like that bikes would lock even though their parking spot was invalid. This caused frustration. Riders wanted locking to be dependent on proper parking. Going forward, we'd ask developers and hardware engineers if this is feasible and then test that feature.
As a result of this experience, I learned that testing with actual customers provides the most salient insights. For this project, it yielded the most actionable feedback that was hyper-specific to JUMP. Next time, we'd interview more JUMP riders in the beginning to inform our early design decisions.
Note: Shortly after this concept project launched, JUMP scrapped the bike computers in favor of bike phone mounts near the handlebars.